"Cramps", my legs cry out, pain-stricken, as I lie down in a humble attempt to sleep after the day-long trek to Makalidurga hill.
July 18th 2019, "Are you free this weekend to join us on a day trek to Makalidurga?", asked Jatin, from PTU. The humdrum existence was getting to my head, gave no second thought; packed my rucksack and out I was.
Let me give you a quick navigation to help plan your 'Do It Yourself' day trek to Makalidurga from Bangalore: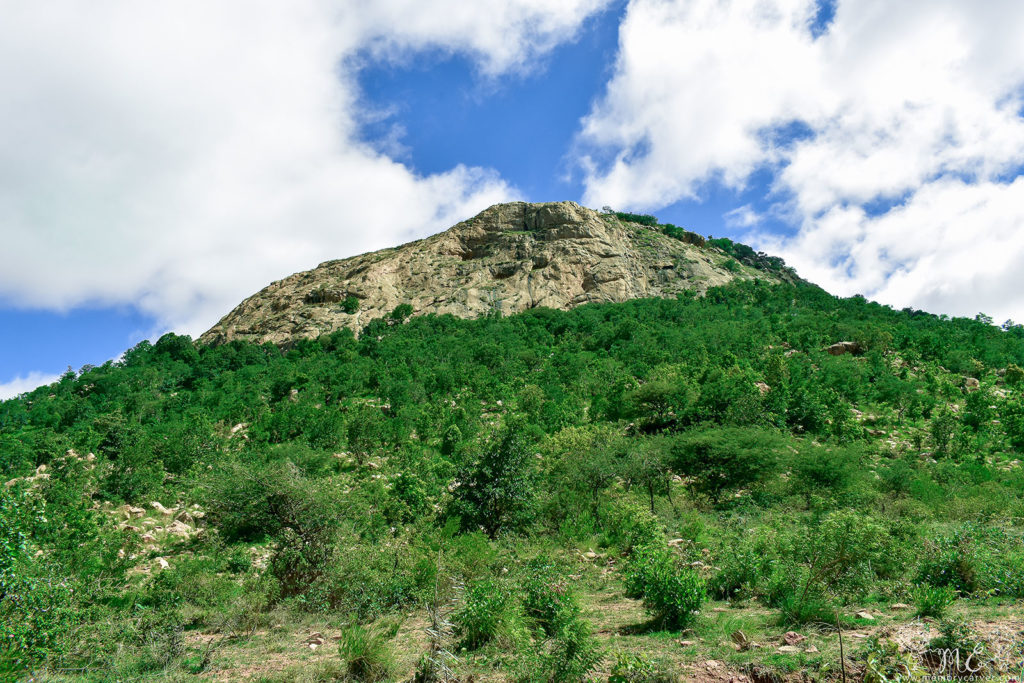 ONE DAY TREK TO MAKALIDURGA HILL FROM BANGALORE
Makalidurga hill is one of the most sought after destinations to go trekking from Bangalore. It is neither an extremely difficult trail nor an easy one. Makalidurga trek trail is marked as a must-do for people with all sorts of interests, be it photography, bouldering, nature study, or even history. Situated at about 10 km from Doddabalapur and around 60km from Bangalore city, this railway trek trail is quite suited for escaping the daily city chaos.
It was 5:36 in the morning. Jeans, a flimsy full sleeve tee, and an even more flimsier 'dupatta' to cover my ears; jack frost was not just nipping my nose. Along with my trek lead, I waited for my fellow trekkers to join. I felt quite envious seeing an old man on the pavement, snuggled in the warmth of his blanket, enjoying his time at the land of nod.
6:00 am, 6:30 am, few more joined us at Swad e Punjab, our pick up point.
THE JOURNEY AND WHERE TO STOP FOR BREAKFAST EN ROUTE MAKALI
Finally, our ride to the base camp, foothills of Makalidurga began. The cityscape was slowly left behind. Fresh air and village life sped past our window, hills and boulders loomed in. The scenic views reminded me of our road trip to Hampi.
How to reach Makali:
Makalidura hill, the monolith, stands along with the other clusters of hills at Makali. As mentioned before, this is around 60km from Bangalore and can be reached by train, KSRTC buses, or even private vehicles.
By train: It would be perfect if you can catch Vijayawada Passenger (56503) from Bangalore Cantonment Railway Station (BNC) by 07:20 in the morning. You will reach Makalidurga (MKL) by 08:49 and can have a walk alongside the rail track to the foothills.
By KSRTC: If you prefer to go by bus, you can find buses till Doddaballapur from Majestic or KR Market, after that, you might have to take a share auto to Makalidurga Village.
Private Vehicle:
You can always ride over to the base camp.  Choose the base for your trek as per your requirement. You can either start your hike from Makalidurga railway station, which is a few kilometres away from the foothills, or you may directly drive over to the foothills. We can even park at the barren land here, with a parking fee of-course.
I was travelling with the trek organized by Plan the Unplanned; they had arranged a tempo traveller for us. It was a group of 10, with three jovial trek leads. The drowsy atmosphere got replaced with laughter and fun as the tempo moved on. Our trek leads helped us 'get to know each other' in a fun-filled way. Sharing stories and scenic routes that we were driving past, we finally stopped for breakfast.
You can stop at Sri Ganesha Grand for breakfast en-route Makalidurga hill, or stop for tea on your way back. It's right at the roadside, and hard to miss. The food here is good and price affordable (as of 2019).
DO IT YOURSELF TRAIL FOR MAKALIDURGA TREK
The rocky, slippery trail lined with shrubs is bound to liven up the adventure trekker within. Keep a lookout for the forest signboard, that's where the trek commences. There is also a Lord Krishna temple over here.
Before moving on to more details of the trail, let's look at some fun facts and history surrounding this place.
Here are some lores about the hill and fort
Deriving its name from the late ruler, Makaliraya, Makalidurga hosts a fort at the top. The Makalidurga fort, which was once a granary, was made use to train army during the reign of Vijayanagara Empire. Later on, the fort was conquered by Shahji, father to famous Shivaji, which was later recaptured and ruled by Kempagowda.
There is also a Shiva temple, still used by locals, at the top-central part of Makalidurga hill. Here, you'll find broken idols of Garuda-Gamba, Basava, and Shiva-Linga. It is rumoured that Markandeya, the boy who defied death to always live the sweet 16 life, performed penance here.
MAKALIDURGA TREK TRAIL :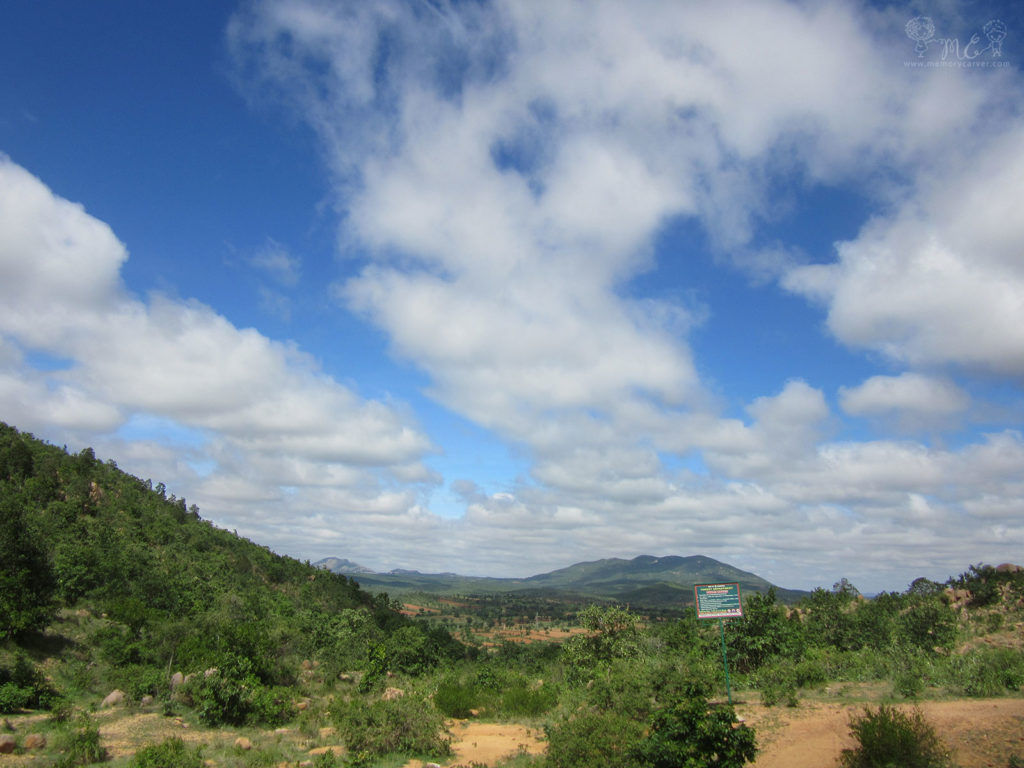 Sandy trail, with greens on one side, and a bunch of monkeys 'hanging' around – I was finally on my first ever proper trek! A gradual and fairly easy climb, with well-guided path, greeted us at the start.
Keeping track of the arrow marks painted on to the rocks we moved forward.
Unlike the first span, the second stretch saw more rocks perched amidst trees. Holding on to the vegetation and dodging the thorny shrubs we hiked up. Out of breath and murmuring, cursing my lung capacity, I somehow moved along. A few more meters this continued, and viola, we got the first glimpse of Gundamagere lake – the lake that resembles the South American continent.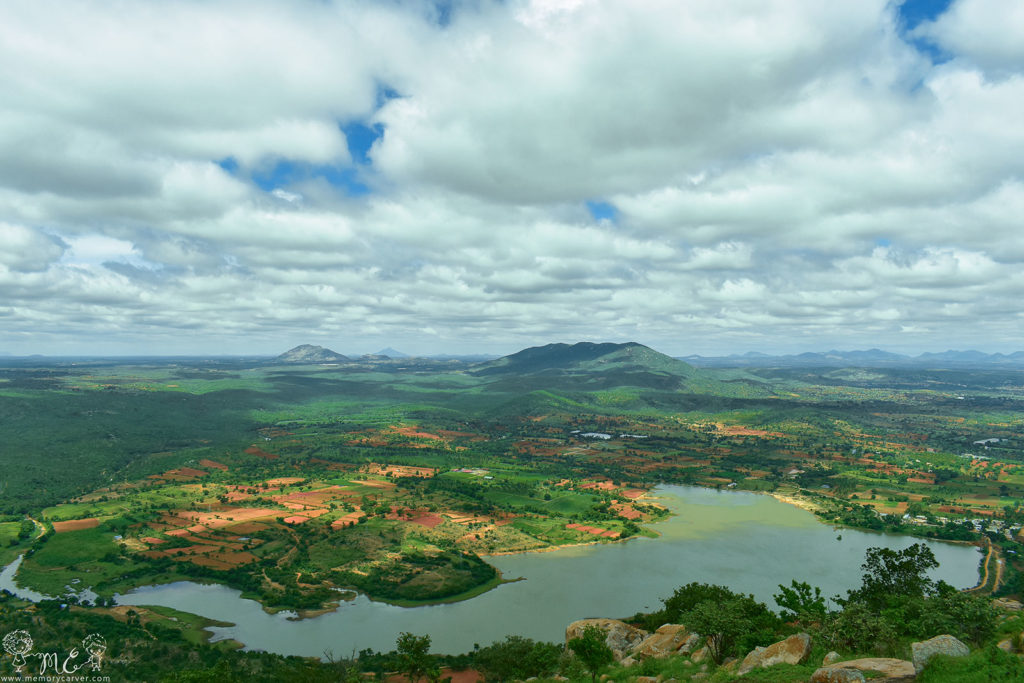 If you are planning to go on this trek, bear in mind that the inclination becomes steeper half-way through the trek.  Also, make sure to watch your step. Be aware of slippery and wobbly rock piles, have sturdy feet. Also, keep in mind that the trek becomes a bit strenuous toward the end.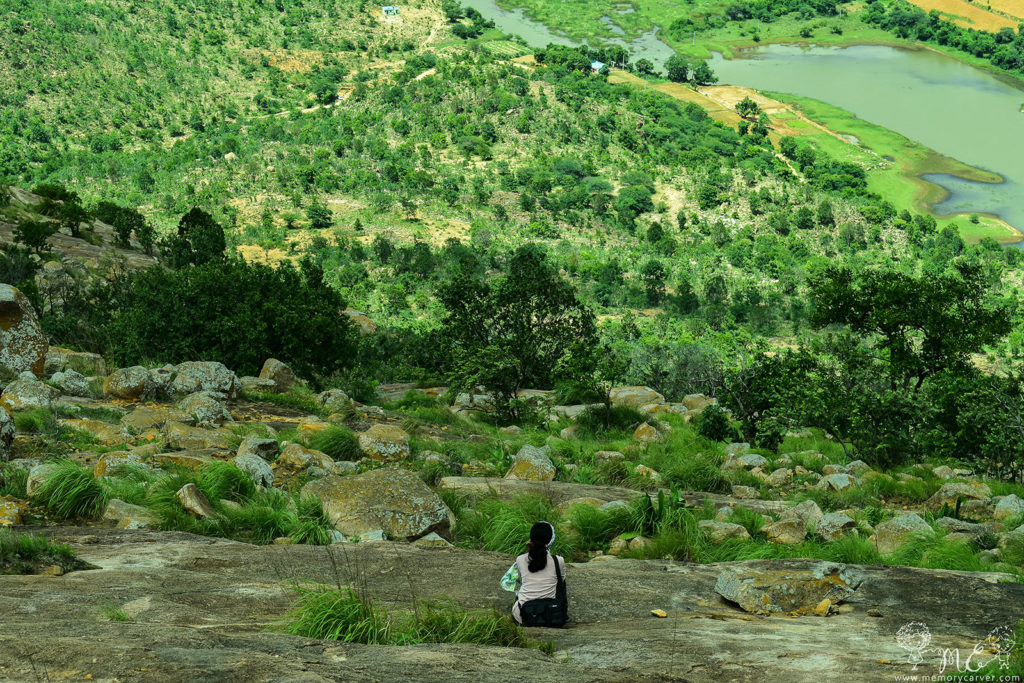 It was not until the last stretch of the trek that I found myself a cosy huge rock, an open and barren area to stretch my legs. Immediately sat down, cloud-gazing, enjoying the breeze that rushed past. Mirroring the puffy whiteness that dotted the azure sky lay the Gundamagere lake, aka South American continent lake.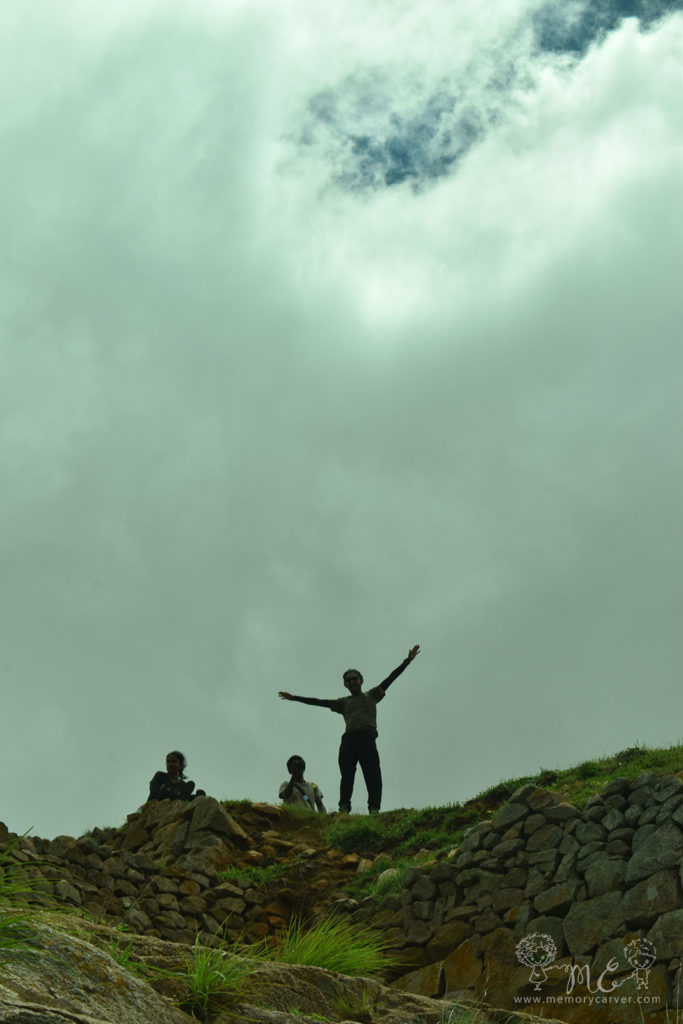 WHAT TO EXPECT AT THE TOP
We reached the summit, soaking 'sweat', at around 11:45 am. Went around a bit, exploring the ruins of the old fort and the Shiva temple.
Finally, one by one we sat down to breath in the view Makalidurga offered. The bird's eye view of cultured fields that spread across, the railway track mesh formations, the train crawling by, and the Gundamagere lake left us gobsmacked.
After a few games of Mafia and lunch, we started our hike back. On return, you can either hike down to the Gundamagere lakeside or ride over to Gunjur lake.
WHAT TO PACK FOR A DAY TREK TO MAKALIDURGA FROM BANGALORE
As I mentioned earlier, the trek would be between moderate to difficult for all novice trekkers. Hence, it is better to be on the safer side and pack less. Here is what you shouldn't miss out on your trek to the Makali hills:
Bottles of water: Carry at least 2L as you'll find no sources during the trek to refill.
Sunscreen and cap: This is more of a 'dry trek' and you'd be needing sunscreens to protect you from burns. Also, be careful of the cap you carry. It can get quite windy up there!
Food: If you have plans of 'food with a view' then definitely pack your lunch along.
Power packs/snack bars: Snacks to boost your energy during the trek.
Hand sanitizer/Wet Wipes: You'd not want to end up wasting your drinking water to wash your hands and face now, would you?
Which was your first trek? Share your experience through the comments 🙂