Gokarna, anyone who ends up in Bangalore, searching for top things to do in Karnataka is bound to have heard of it. So had I. Long stretches of golden sand, the turquoise blue waters, temples around every corner, Gokarna, is equally popular among pilgrims as well as young lads. Being a Kochi born, the humid, beachy, salt-in-my-hair climate never got my thumbs up. Then what made me travel all the way from Bangalore to Gokarna? Read on…
Settled amidst the lush greens and flowing blues is India's very own 'Masai Maara', the Halakkis. The Halakki or the Halakki Vokkaligas are an indigenous community found in many parts of Northern Karnataka. Still breathing the ancient customs, they mostly rim the coastal and forest areas of Uttar Karnataka, including Ankola, Honnavara, Kumta, and Gokarna. A single portrait of a Halakki woman was all it took to guddle the folklorist in me. Tickets booked and off we went!
MEETING THE HALAKKIS
7:30 am in Gokarna, the temple town was slowly waking up to the distant bhajans and chants. We could see elder men lazing around the verandahs, a cup in one hand and newspaper in the other, while a few others were busy setting up their stalls. Cows roaming around and priests scurrying. Almost every house I shamelessly peeped into had a small temple within, some Pooja part going on. Sound of bells and the scene of young girls in uniform, books in hand, sitting on the porch with mamas plating their hair, greeted us at every narrow lane.
Structure of Halakki Community
A Halakki house easily stands out – earthen or red oxide flooring with palm or coconut leaves for the roof (modern concrete houses can be spotted these days as well). Group of Halakki huts are called as the 'Koppa', with many Koppas lining up to make a 'Seemey'. A 'Gowda' leads his Koppa, with 'Budavantha' and a 'Kolkaara' to assist him in decision making. And what if the Koppa leaders decision has opposition? That's where an 'Arasu' comes in. He leads the Seemey, his decision presiding over that of all Gowdas.
Saree draping: The Halakki Vokkaliga way!
One of the major factors that gravitates various photographers to this community is the Halakki way of dressing. This, of course, is followed only by older ladies these days. The elders are still maintaining their cultural style of draping saree and adorning layers of beaded chains around their neck.
We started our hunt at the famous temple pond in Gokarna. Colourful shops and houses lined the edges, packed one after the other, of this Koti Teertha. locals exchanged warm smiles as we walked around the smaller lanes that lead to the sacred pond.
From the Koti teertha, we went to the main temple area. There are two temples here, one for Lord Shiva and the other for Ganapati. It is here, near the temples in Gokarna, where one can easily spot a Halakki woman in her full zeal.
Tanned skin, coal-black oiled hair with grey streaks peeking out, neatly pulled back into a tight bun, adorned with abbalige (kanakambara) or the muthumallige (mulla poovu) flowers. Black and yellow beaded neck-pieces coil down to the shoulders from top of their neck. They also ornament themselves with earrings, nose ring, bangles of glass as well as metal.
Their clothes are designed specifically to aid them during work as well as to beat the coastal climate. Saree is draped in a special way with one end tied around the neck first. Once wrapped around their shoulders it looks just like a sarong. Depending on the place they hail from, the length of their saree varies.
We stood a little away observing how they processed their business. Each had a different way of coaxing the passer-by to buy flowers from them.
There do exist regional differences among the halakki community as one moves along the coasts of Ankola to Honnavara. One major difference noticed would be in their dressing. It was observed by eminent folklorists at BuDa Folklore that as we near Honnavara the length of the saree increases. One would notice the saree folds elegantly tucked away at their waist while moving around for work. They are also known to wear longer yellow beaded chains along with the blacks.
HALAKKI STORIES AND FOLKLORE
Sun started crawling overhead, I could literally taste salt in my mouth. That's when we decided to head back to our scooter. Having noticed two older ladies sitting on a bench nearby, we slowly went up to them to try push in some conversation. "It's not worn by many these days, We're the Halakkis " she's said as I pointed out to her neckpiece, and her face literally lit up saying that.
Every community will have its own folklore and legends. Similarly, the Halakkis have their own story to narrate, a story/folklore that suggests how the name Halakki originated.
It is told that Parvathi while carrying food for Lord Shiva who was ploughing the fields, tripped over and fell. The rice and milk that she was carrying spilt all over. With this mud mixed rice and milk, goddess Parvathi made two dolls – one male and the other female. On his way back, Lord Shiva noticed these dolls. Upon his touch, they came alive.
Since they were born while the Lord had taken the form of a farmer, he gave them the occupation of agriculturists. This belief that they were born out of dolls made from milk and rice gave them the name Halakki, wherein, Haalu means milk and Akki means rice.
It is also suggested that the name originated coz they cultivate rice which is as white as milk.
MEANS OF LIVING FOR A HALAKKI COMMUNITY
Just as I mentioned how in the Halakkis got their name section, they are predominantly farmers.
Our conversation with Kalyani Akka: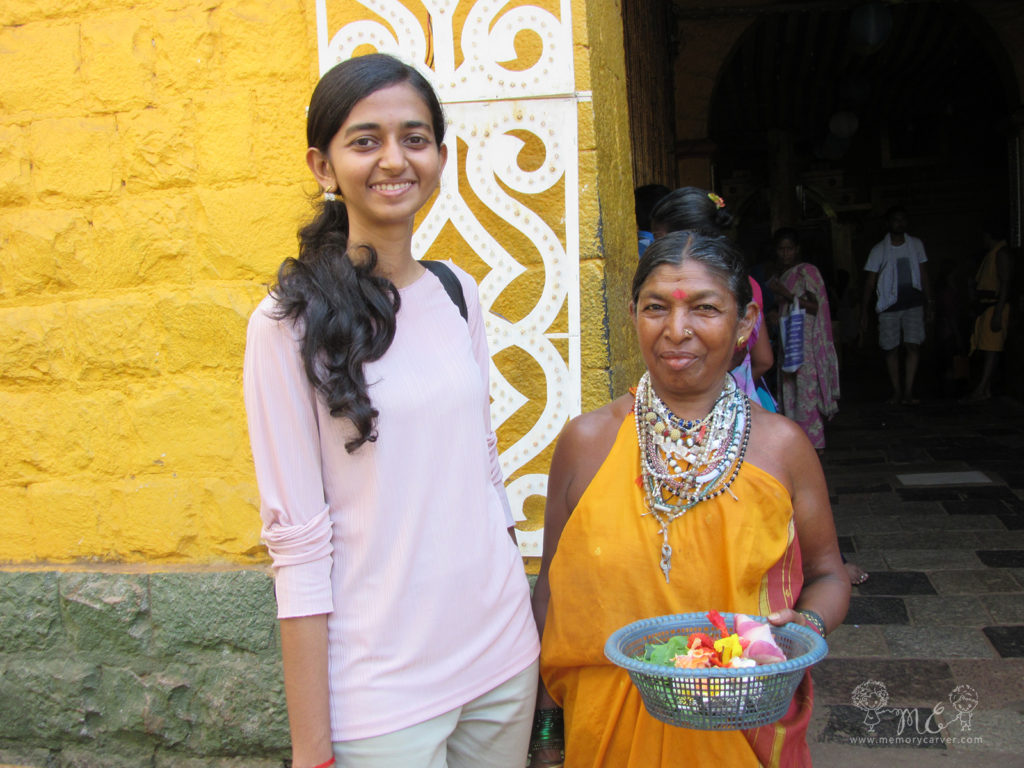 We sighted her sitting near the well just outside the temple en route Gokarna main beach.  The mango-yellow saree with matching yellow flowers, the bright red bindi, and of course, the beaded neckpiece – the Halakki elegance was spilling all over!! She was busy arranging new sets of flowers for sale as we approached. "How much does it cost," I took her by surprise. Sparing a moment to drone her sight over us, smiling, she answered, "One bunch 10 Rupees". I could sense her warm and enthusiastic personality. Without hesitation, I chose to sit next to her. With my broken 'Kannada' I managed to ask where her house is and from where she brings all these flowers. From her reply, I could puzzle out that she lived somewhere near to Kudle beach. It is from there she walks all the way to the temple to sell the flowers she reared…
HALAKKI FOLK MUSIC
Halakki ladies are known to be quite talented singers. It is said that they sing spontaneously for all occasions. Even their harvest songs are said to contain traces of stories that suggest how their name came about
"Suggi kunita" is a form of harvest dance that is performed by the Halakki men. There will be around 12-14 men for the performance which is usually held during full moon day. The team of suggi performers are called as suggi mela, a family on its own. These men go around houses playing "Gummate", the drumming instrument, where they are welcomed /greeted with an Aarati. Even the village head, the Gowda, was known to touch the feet of 'suggi makkal', the dancers. The suggi makkal or the dancers are dressed in beautiful costumes and headgears made of softwood with intricate carvings of birds and flowers. They may also carry a stick or peacock feathers while dancing. The group will also have 'Sooginavaru'/'Haasyagaararu', an entertainer. The Gummate used to be made using the skin of monitor lizard, which has now stopped. (info gathered from BuDa Folklore)
HALAKKI RAMAYANA
The singing folk of Halakkis have their own version of Ramayana. We have always been taught about how Rama won Seetha's hand in swayamvara and the rest that followed. But as per the Halakkis, this is not so. 'Seethakemi' as it is called, the halakkis sing about how Lakshmana killed a cow that was obstructing Janaka's meditation to win Seetha for marriage. This is more of a female, Seetha, centric version. As it goes, this version of Ramayana is quite long and has to be sung all night long.
A wonderful end to our search of the aborigines of Gokarna…
As we rode through the ghats, every second wind that blew was scented with the pulpy smell of mangoes. I could clearly picture bright yellow mangoes right in front… Yes, March is indeed the season for mangoes. But I can't recall getting a strong urge to go buy one, even during peak seasons. But this time it was different.
Walking the streets of Gokarna, near the main beach, an old lady passed us by. And guess what, she was carrying a basket filled with unadulterated yummy-looking mangoes!! The urge pricked right in and we waited for none… 10 rupees per mango.
Back at our stay, we sat down (nibbling the mangoes of-course) observing the waves that kept pushing itself back towards the shore. Each and every piece of the 'fresh and juicy' mango made me surf the sea of childhood memories – walking barefoot in our backyard, literally trying to stone down mangoes…
Independent, graceful, elegant, with persistence to top it… these are what I felt describe the lovely Halakki ladies I met.
Have you ever had a chance to meet someone from such different communities? Share your stories through the comments below 🙂