Amaryllis is a quaint little homestay in the heart of Wayanad district in Kerala. A roadtrip to Wayanad was long pending in our queue and we finally decided to take the plunge.
Wayanad…  "way" to a "nad" or place/ land.. and we made it to the nad
What is so great about Wayanad?? Well, you have to go there to feel, see, and enjoy it. Serene and lovely… the "seventh heaven" is how I would describe.
We decided to spend our 30th year of togetherness in this paradise. Frankly, it was our kids who felt that we needed to pause the corporate hullabaloo and rediscover our space. We were instructed to pack our bags and enjoy that well-deserved break. And truly so… two days in oblivion.
The journey to Amaryllis, Wayanad
There aren't airports or railway stations to take us to this paradise. The nearest one is at Kozhikode. The road journey is, therefore, a must to reach this paradise. However, we had decided to drive right from start to our destination. We drove to this place, undeniably a crazy drive through the Ghats. As always, me – the driver and, Suja, my trusted driving instructor.
Google map has always been my trusted navigator and route consultant. I found two routes defined.  We decided to explore both these routes, one onward and other while we return.
Kochi to Amaryllis, and back
Our onward journey took us zigzagging through Nilambur, crossing the New Amarmbalam wildlife Sanctuary, Nedukani, Vaduvanchal and finally Amaryllis our destination.
The return was through the famous Thamarassery churam route.
Lovely, sight either way, but felt that the churam route was a bit too trafficky. … We did almost a roundabout trip to Wayanad, approximately 540 km in total from my home at Ernakulam.
Amaryllis homestay, our chosen paradise within the paradise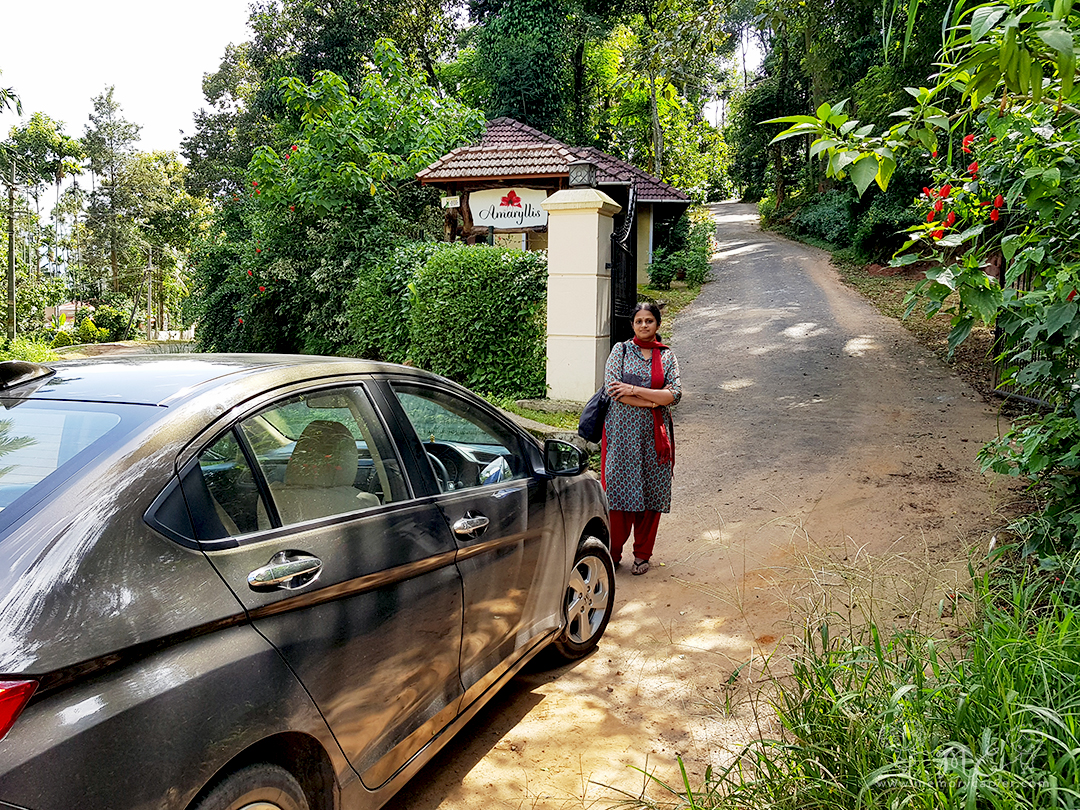 The package said, "two nights at 'Amaryllis'…. atop a treehouse". "Amaryllis", a luxury homestay our kids had picked for us.
In fact, the place and the name were in the right milieu. More than just apt I must say. There was so much of research done by our kids, as I subsequently understood, from choosing the right word for the occasion to a homestay which name and mean so, never to forget that it must suit our tastes as well.
An old wives tale before we get into the details of our stay
There is a tale associated with this flower, more folklore. The story goes to say a romantic story, wherein Amaryllis, the shy timid nymph falls in love with Alteo, a shepherd with Hercules' strength and Apollos' beauty. However, he paid no attention to her. In faith to win him over, she decided to present him with a flower so unique that it never existed before. Dressed in maiden's white, she appeared at Alteo's door for 30 nights, each time piercing her heart with a golden arrow. When at last Alteo opened his door, there before him was a striking crimson flower, sprung from the blood of Amaryllis's heart. Albeit the tale sounds a bit tragic towards the end, today, however, the meaning of Amaryllis flower is linked to beauty, attention and pride.
Stay at Amaryllis – What to expect, Our review
"Amaryllis", our homestay has many options.  We were booked for the treehouse, Solandra, for two days. A treehouse from where we could see the serene surroundings, rain cascading downwards into the valley. The beauty of nature was carved at its best – a beautiful romantic environment!!!
That hillock on which "Amaryllis" was situated is in itself a beauty. This is where our hosts, Victor and Ranjini, Jini, as she's fondly called, dwelled. It's a wonderful home perched amidst surroundings astonishing. As said by my hosts, "this turns into a home from a house when we have folks like you to give us company".
There are two tree houses and 5 rooms that can accommodate guests.
Follow the link to know more about this paradise, "Amaryllis", in Wayanad. You can contact the ever-friendly, lovely host on Phone: +91 9847865824 (Victor) or +91 9847180244 (Ranjini).
Things to do around this little paradise
Amaryllis offers a wide range of activities including treks and even visit a nearby tribal village.
We had not planned many visits anywhere for we wanted to just enjoy the place of stay. Nonetheless, having been to Wayanad, we couldn't but resist two locations, the Edakal caves and the Karapuzha Dam.
The trek up the Edakkal caves was strenuous and did remind us of our physical age. Nevertheless, the view from atop the caves, around 4000ft above sea level was awesome. Frankly, I wouldn't call these as caves, rather a cleft, rift, or rock shelter. And from within, looking upwards give an impression that two rocks are held by a stone. Edakkal (meaning 'stone in-between' in Malayalam) thus defining its nomenclature. The petrographs on the rocks within the cave, they say, should date back to the Neolithic age. Wonder what they meant and read as!!!!
Karapuzha Dam is one of the biggest earth dams in India. Never realized its beauty until we reached there.
View from Karapuzha dam…
To conclude
There are many more tourist spots worth countless visits. However, we did leave it for our next trip to Wayanad.
It was a well spend two days. Revitalized, energized we returned taking the Thamarassery churam route. We did take commercial breaks en-route, cherishing the landscape, and enjoying Mother Nature at her best. It's been all WoW.
Gods own land, no wonder it's called so, in rumination, till next time…