Arizona homes the worlds grand canyon. No doubt. But to see an extensive fort brimming with history, overlooking the gorge you must come to India. Which canyon in India are we referring to? It's none other than the Gandikota canyon formed between the Erramala hills and river Pennar. Interested in Gandikota forts history? Need an itinerary to plan a 2-day road trip from Bangalore to Gandikota? Read on to know how to plan your road trip from Bangalore to Lepakshi and Gandikota as well as Belum caves.
Quick navigation to help you plan your roadtrip from Bangalore to Gandikota via Lepakshi:
A little about Gandikota Fort – THE HISTORY – Who built and why?
Let us delve into a little history first. When was Gandikota fort built? Who built it? Well, let's say there are different views and stories related to this.
As per Wikipedia, this fort at Gandikota was built during the 12th century by a chief named Kakaraja of Western Chalukyan Dynasty. It is said that Kakaraja stumbled upon this place en route Mulkinadu. Being enthralled by the scenic beauty Gandikota offered, he decided to build a fort here.
I'm no historian, but I did read that there are debates about the historicity of this chief. According to Gandikotas sthalapurana, it was believed that there was a king named Kaka Maharaja in a nearby village, Bommanapalli. He, during his hunting session, discovered Gandikota. The name was so given owing to the gorge (Gandi) and the fort (Kota).
Gandikota has stood as a testimony to various reigns, including that of Delhi Sultanates. If you're interested to know more about Gandikotas history please check out Shodhganga.
Bangalore to Gandikota & Belum Caves via Lepakshi: A 2-day itinerary
Sound of a spring meandering its way through the neatly piled slabs of lateritious rocks woke me. Drivers fatigue had caught on and we had stopped somewhere that looked very much like the canyon to stretch. The landscape gave me bumps. It was past noon and we had been driving from Lepakshi for a while now. I rejoiced at the fact that Gandikota was right around the corner…
Waving goodbye to the playful monkeys, I turned to look at the G-map. The "Gate to Gandikota Canyon" stood an hour away from it!! *suspiration*
How to reach Gandikota from Bangalore?
Gandikota is around 6 to 7-hour drive from Bangalore, depending on the route you choose. Roads are in good condition (as of 2019 Dec) and you're bound to have a smooth roadtrip. You can also stop at Lepakshi during your road trip from Bangalore to Gandikota like we did.
By train:
Gandikota is a destination that's mostly preferred by riders for road trips. It is a secluded place and doesn't have any railway station. Jammalamadugu is the nearest station to Gandikota, around 16km from it. You'll be able to get direct trains from Bangalore. The most suitable option from Jammalamadugu to Gandikota would be an auto which might cost you 200 or more. There are very few buses that ply to Gandikota from here.
What is the best time to visit Gandikota?
It is ideal to visit this hidden canyon of India, aka Gandikota canyon, during winter months. I.e, the best time to visit Gandikota would be during September-February. Wading the hot and humid weather is one thing, but honestly, you'll start sweating once the sun is directly overhead even during winters. Then why suggest winter? This is known to be the best time to view perfect sunrise and sunset from the gorge. So, plan your trip during these months.
Is Gandikota safe to visit?
Gandikota, a charming little village in the Kadapa district of Andhra Pradesh, boasts about its beautiful natural gorge formation and the majestic fort that stands next to it. Just like any other village in India, you'll find Gandikota to be equally welcoming and safe, even for solo travellers. Sunset point at Gandikota is bound to see crowd pouring in, especially on weekends. In case you want to stay longer to enjoy the night, I'd advise female solo travellers to find a group to hang out with. Be on guard, stick to the rules, respect local culture, and I'm sure you'll have loads of fun at Gandikota.
DAY 1: Bangalore to Lepakshi, reach Gandikota by evening
Continuing with the narration… What can I say about our roadtrip from Bangalore to Lepakshi?
Well, we started our journey around 7:00 am. This, as usual, was to avoid Bangalore's traffic. The 2-hour long drive felt longer with nothing much to gawk at. More roads sped past and I finally embraced my travel buddy, 'the slumber'.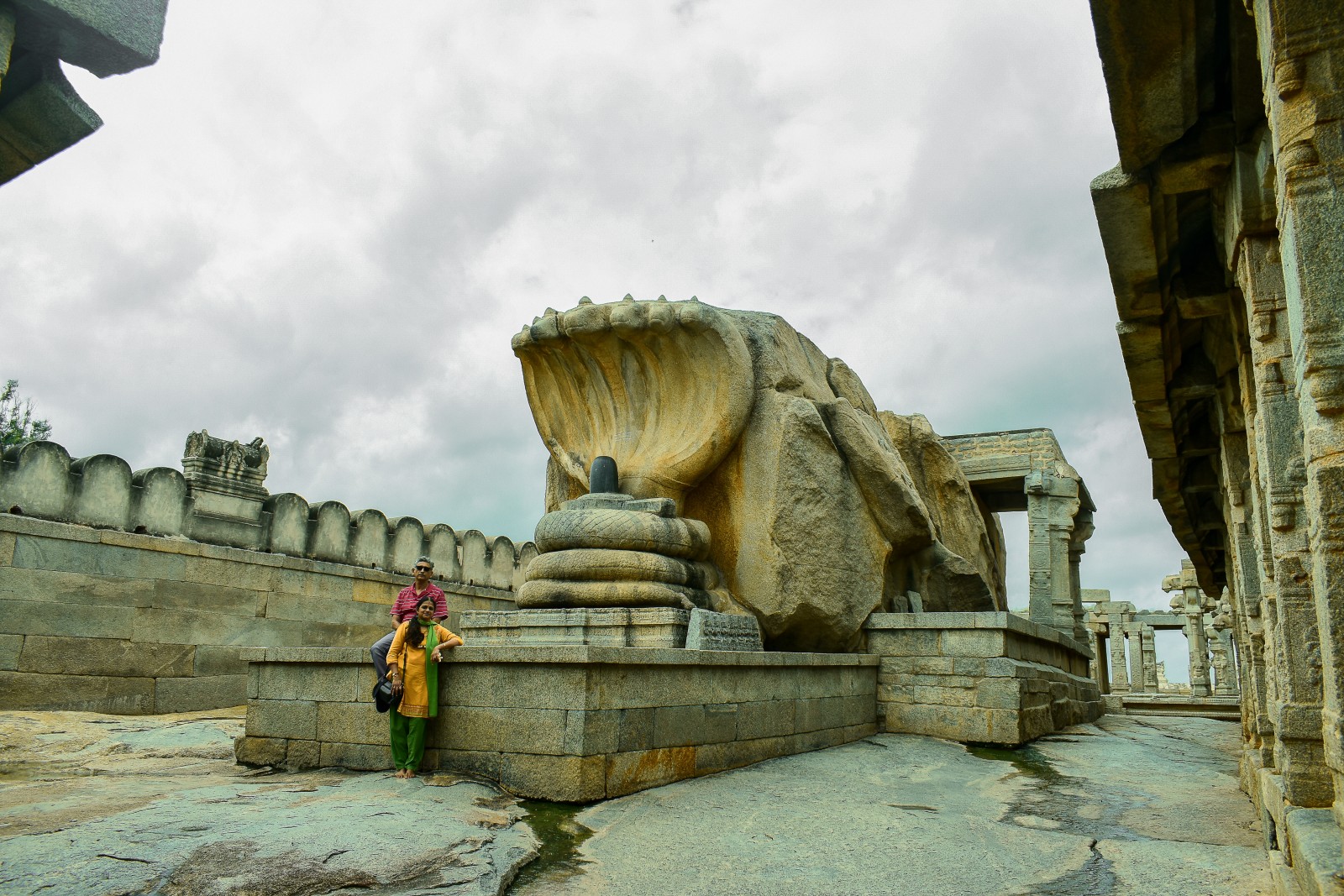 Rubbing my eyes and straightening my skirt, I stood; an attempt to soak in the view. On one side there were vendors, guides, and sweepers muttering something in Telugu, and on the other, monkeys playing on top of scooters/bikes as if it were their own.
Keeping our slippers outside, I waded in. My nihilistic attitude that this roadtrip was meaningless got washed away as soon as I stepped into the temple. Intricately sculpted pillars immediately caught my attention. The main shrine is still living with Pooja being performed regularly. Hence photography isn't allowed inside this part of Lepakshi temple.
Monolithic Nandi, ornate pillars, and mural paintings from the Vijayanagara empire – these summarize Lepakshi. Do they? Well, not really. Lepakshi, a small temple town in the district of Ananthapur, Andhra Pradesh, has an immense web of folktales and legends attached to it. The first one is regarding the origin of its name.
History of Lepakshi Temple
Lord Rama, having seen Jatayu fallen and injured asked it to get up – "Le Pakshi" – thereby giving Lepakshi its name. Can this story be true? It is believed that Ravana on his way back to Lanka stopped here for rest. This is one among the many stories behind 'the footprint' at Lepakshi temple. I presume the Jatayu incident might have occurred after Ravana resumed his journey. As folklorists say, there can be many versions to one tale!
Does Lepakshi temple have a hanging pillar?
Have you ever been to Hampi? Remember the mysterious musical pillars at Hampi? Who knew the Vijayanagara empire had something similar in store of Lepakshi too when they started its construction. Yes, I'm talking about the hanging pillar at Lepakshi. Yet another architectural enigma by the Vijayanagara architects.
Veerabhadra temple at Lepakshi was constructed by 2 brothers, Virupanna and Viranna, during the Vijayanagara reign. Out of the 70-odd  ornate pillars at this temple, there is one that stands out. Or should I say, that 'hangs' out? No one (and that includes a British architect) has been able to figure out the secret behind its construction till date.
PS: The gap between this pillar and the floor isn't too wide or easily noted. Ask the temple priest or a guide in-case you're unable to locate it.
Story of an unfinished Kalyana Mantapa at Lepakshi
The elaborate verandah surrounding the temple complex stood still as the travellers took selfies with it. Its silence echoed hopes that someone would stay to listen to their symphonies and tales from the past. That being said, the incomplete Kalyana Mandapa has a story of its own. It is believed that this Kalyana Mandapa at Lepakshi would have witnessed Lord Shivas and Parvathi's marriage, had it been completed on time. Why was it not completed? This is another story.
Virupanna, one of the chief architects, was also the treasurer at Achyuta Devarayas court. As per the lore, Virupanna, without the kings' consent, emptied the treasury to build the temple. An angered Achyuta Devaraya ordered Virupannas eyes to be popped out. Some say that the name Lepakshi originated from this – "Lepa-Akshi" aka Blinded Eye. Bloodstains on the wall live to tell the tale.
Lepakshi Nandi
Having pottered around a bit, we started towards the statue of Nandi. The Nandi statue is situated about 500m from the temple premises.
A humongous statue of Nandi stared at us as we entered the well-kept park. It rests in a couchant position facing the naga-linga behind the Veerabhadra temple. Apart from the fact that it is one of the largest monolithic Nandi in India, Lepakshis Nandi is also an architectural beauty.
Where to eat on your trip to Lepakshi from Bangalore?
How do sandwiches and fruits sound? We always prefer to pack our brunch during road trips. That's exactly what we did this time as well. Apples, packets of dry fruits, and sandwiches *happy-feet*. You can, however, opt to stop at hotel Haritha near to Lepakshi (Veerabhadra)Temple for lunch. PS: We did not have lunch here to comment or rate it.
Lepakshi temple and Nandi park timings
Timings of Veerabhadra temple at Lepakshi is from 6:00 am to 6:00 pm (daily) and the Nandi park opens at 9:00 am. I'd suggest you reach Lepakshi as early as possible to avoid the scorching sun. Remember, you'll be walking bare feet around the temple!
1:00 pm; bells jingle as we drove past Veerabhadra temple. I take one last look at the temple archway before slithering away into my backseat slumberland.
---
Next stop – Gandikota Fort and Canyon 
Windmills, fields, a lot of rocks, and again windmills. It took us about an hour to reach our stay at Gandikota, Hotel Haritha, from the 'Gate to Gandikota Canyon'. Being a weekday we almost had the place all to ourselves. We still had the sunset from Gandikota fort on our checklist to call it a day.
But first things first – no road trip's a road trip without tea, right? Ginger tea with an amazing view of Gandikota Fort and temple.
5 minutes later, we started off to witness the sun sinking into the valleys, the rays highlighting the brick red fort walls. Hopes set high, I hurried. Halfway up and guess what? We were asked to leave due to some tragic event which took place on that day.
Well, what can I say, my hopes of getting the perfect sunset at Gandikota Fort sank along with the sun!!
DAY 2 – Sunrise at Gandikota + explore fort + Belum Caves
Good Morning Readers!!
Our second day at Gandikota took off with the most popular 'sunrise at Gandikota'. With my pathetic sense of direction and wrong navigation, we took a detour and ran a teensy bit late.
The views of small brown birds chirping around to welcome the first few rays of the sun and backpackers peeking out of their tents greeted us. An array of cars and bikes were parked nearby. People lined the cliffs with hopes of capturing great selfies with the sun.
Best place to see sunrise and sunset at Gandikota:
View of the bright orange orb rising, casting hues of yellow, pink and blue, highlighting the Pennar river that forages its way through the gorge – this is what you're here for. Your roadtrip to Gandikota is incomplete without witnessing the sunrise/sunset. The two popular vantage points to witness the sunrise at Gandikota would be one, walk through the fort towards the monuments. Trek along these and you'll finally end up at the viewpoint. Second would be to take the right just before reaching the fort entrance. This narrow lane is quite easy to miss if you don't keep a lookout for it. It is here where you can pitch tents.
Sunset, on the other hand, would be better off from the fort.
We opted for the second to view the sun rising over the Pennar river and gorge. I wouldn't say that the entire place was neatly kept. No, it wasn't. There were trash bags, plastic covers and glass bottles everywhere. People camping out here definitely need to pay more attention and not litter the place.
THINGS TO SEE AND DO NEAR GANDIKOTA – plan your roadtrip from Bangalore effectively
With the "sunrise at Gandikota" checked off the list, we headed towards the fort. A gigantic Kota door greeted us.
Can we drive through this Kota door at Gandikota?
You sure can. In fact, you can take your vehicle all the way up till the Juma Masjid. Crossing the fort, you'll walk straight into a small village – a narrow stretch of 'kutcha' road with houses on either side. Herds of cows and buffaloes grazing, chicken being chased around by kids, elderly sitting on the verandah enjoying their morning tea and women filling pots from a pump nearby. Eyes kept goggling at the tourists that passed by.
Gandikota Fort and other monuments
Major attractions/monuments, apart from the Pennar river gorge, at Gandikota is its vast fort and monuments. Some of these include:
Charminar and Jail – Charminar is the first structure that looms in as soon as you cross the Gandikota fort gate. It's nothing but a narrow structure built for the pigeons. Right next to it is the Gandikota jail. A box-shaped, dark and dingy place (one hell of jail it would have been *shudder*).
Madhavaraya Swamy Temple – Located inside the Fort at Gandikota, this temple in ruins is sure to give you the Hampi feel.
Jamia Masjid and Granary – Built during the reign of Qutub Shahi Kings of Hyderabad Juma Masjid is one place you can stop to rest after your hike to view the sunrise. The granary is situated right next to the masjid.
Ranganatha Swamy Temple – This is yet another age-old temple (again, in ruins) which is close to the granary and Juma Masjid.
If you are planning a 3-4 day roadtrip to Gandikota from Bangalore or Hyderabad, you might as well incorporate some of these in your itinerary too:
Mylavaram Dam and Museum
Owk Reservoir
Belum Caves
Thimmamma Marrimanu
Gooty and Kurnool Forts
Temples of Tadipatri
 Rock Garden
Yaganti Temple
Adventure activities near Gandikota:
Gandikota also offers adventure sports such as rappelling, trekking, rock climbing, as well as kayaking. Kayaking, I believe, is not through the gorge part, but is near a dam. You might want to confirm this with your booking partner once. If you're planning to trek down, the small stepped waterfalls might also interest you.
Sun had already taken its position overhead as we completed our light trek and sightseeing. Sweat dripping off our face, we hurried back to the hotel for a quick breakfast.
Next on our list was Belum caves.
How to reach Belum caves from Gandikota:
The 1-1.5 hour drive to Belum caves from Gandikota was much more scenic than our ride from Bangalore to Gandikota. Valleys of red granite disappeared paving way for sunflower fields.
If you are directly travelling to Belum caves and is looking for train options, you might want to book those plying to Ananthapur or Tadipatri. From here you can catch buses going Belum caves.
Few facts about Belum Caves – THE HISTORY
Visiting Belum caves is a must if you're into adventure and exploration.
Belum caves timing:
Having spent quite some time photographing the sunflowers we reached Belum caves at around 1:30 pm. The cave is usually open from 10:00 am to 5:00 pm.
Where is Belum cave located and how old are they?
This 3299m long cave was naturally formed by the river Chitravati, a tributary of Pennar river. Situated in the Belum village of Kurnool district, Belum caves are said to be the second-largest cave system in India. Even so, only 1.5 km of the cave is currently open to the public.
As is the story of many other hidden treasures in India, Belum caves were also founded by the British. Even though it was known to the locals, it was a British geologist named Robert Bruce Foot who officially recorded it. Originating from the Sanskrit word 'Bilum', meaning hole, these caves housed a few Buddhist artefacts. These are now placed at the museum at Anantapur.
Is there any age barrier to visit the caves? I'd say no. We met people of all ages here, small kids to oldies. AP tourism is doing some good job in reviving the caves to make it a tourist destination. Caves are well lit and seats are installed inside. All's well as long as you are not claustrophobic or afraid of bats and can walk for 2-3 hours.
What is there to see at Belum caves?
Some of the major attractions at Belum caves include the Paathalaganga, musical chamber, and simhadwaara. Paathala Ganga is a perennial rivulet that people believe heads towards a well, 2km away, at the village. A chamber of music inside a cave? This is an area inside the cave where the stalactites produce musical notes when struck with a stick. The Simhadwaara is nothing but the stalactites formed in the shape of a lion.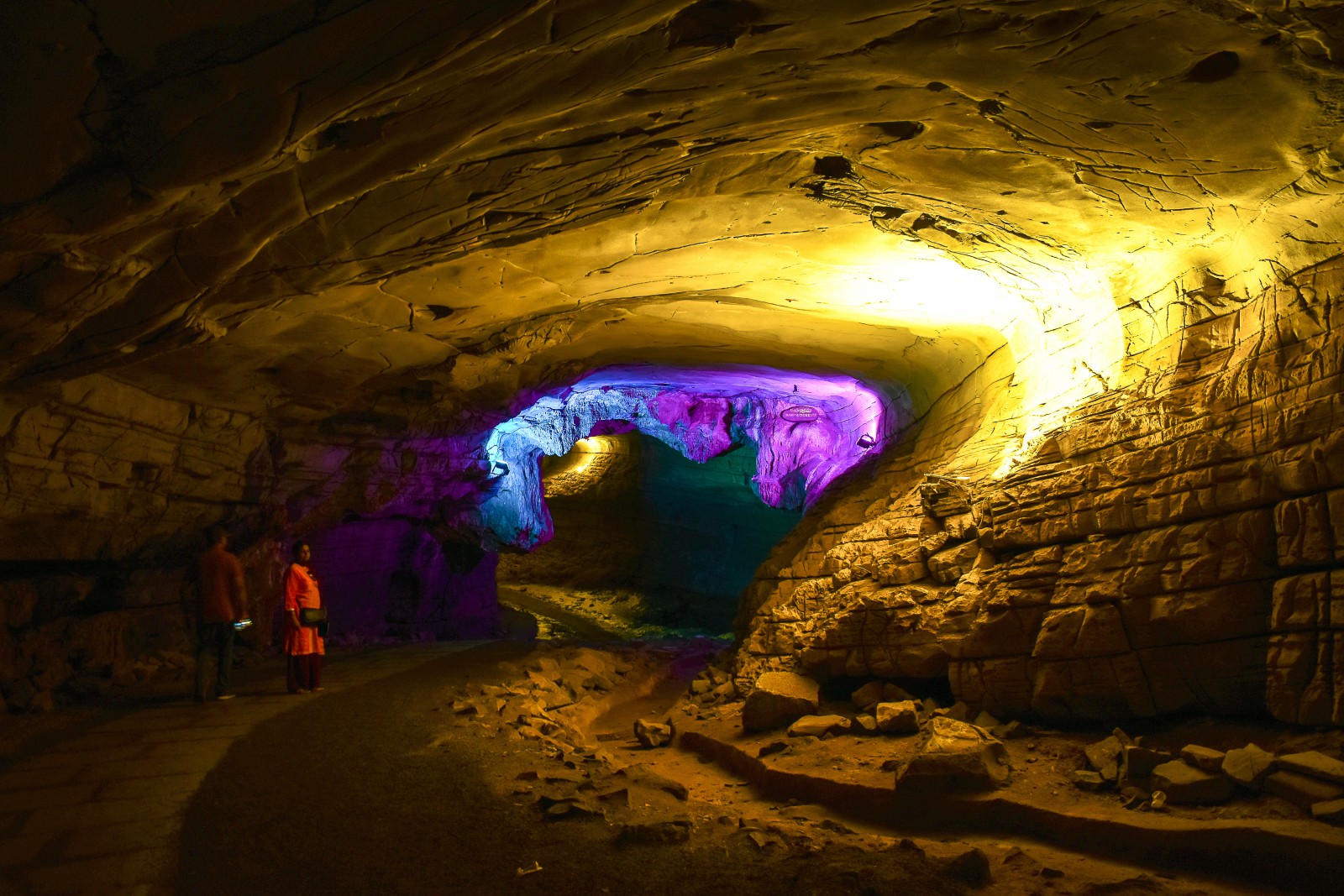 The guard gave us a confused glance as we came out. "Out so soon?", read his expression. Yes, the slushy cave floor, the smell of bats along with the cries for lunch from within made us retreat after an hour of cave exploration.
I scanned the area for a decent restaurant but the only shop inside the Belum Cave complex was one selling juice, water and ice-creams (and maybe some other knick-knacks, we did not check).
Way back from Belum caves to Gandikota…
Having informed the people at Haritha hotel that we'll be back for lunch, we started our return journey.
"That's Kadappa stone", my mom cried out pointing to a truck loaded with black slabs.
It's quite amazing how the brick-red backdrop of Gandikota suddenly became blackish. Every house that we passed by had their gates made of Kadapa stones. These are thin black limestone slabs used for various construction needs. Did you know that AP and Telangana together constitute the countries largest limestone reserve???
Back at the hotel, we decided to restore our oomph through a power nap. This, however, extended and we missed the sunset again! But we did reach in time to witness the moon rise over the Pennar river.
Things to do in Gandikota at night
Lights from the 'village faraway' shimmered as the last rays of the sun touched the fort walls. Nights at Gandikota is not just about campfires and music. It's also about the river mirroring the moon. If you are a photography enthusiast don't forget to carry your tripod along.
DAY 3: Head back to Bangalore from Gandikota
After spending two great days at Lepakshi and Gandikota, we headed back to Bangalore. Include temples of Tadipatri and Owk reservoir to your itinerary if there's one more day to spare. Check out the list of places to visit near Gandikota I had mentioned above to lay down your itinerary.
Where to stay on your road trip from Bangalore to Gandikota
Gandikota stay options:
Red granite rocks and hills spread as long as your eyes can see. Honestly, Gandikota does not give you many options to choose from for your stay (as of 2019 Dec). Being a quaint little village, all that's currently available at Gandikota is the Andhra Pradesh Tourism's Haritha hotel. The hotel provides you with decent rooms (AC, non-AC, and dorms) and food. Haritha hotel is quite close to the fort gates and gives an amazing view of the fort walls with Madhawaraya Temple's mighty Gopuram. Amenities are pretty much basic and you'd probably have to cope with flies falling onto your dinner palettes. On the whole, considering the price they charged, the stay, food, and service we received were satisfactory. Being the only available hotel near Gandikota fort and gorge, it's wise to book 2-3 months in advance.
PS: If it's a group of 3, you can ask for an extra bed (chargeable).
If you've included Tadipatri, Yaganti etc on your roadtrip from Bangalore to Gandikota, you may want to set base camp at Nandyal. Plan accordingly.
Camping at Gandikota:
Yet another option that is available, apart from the Haritha hotel, is to camp near the Pennar river. Some groups organise treks at Gandikota. They provide camping facilities as well. You may book through online portals or call/WhatsApp them. Well versed in campcraft? You may go ahead and pitch your tent.
What to pack for your roadtrip to Gandikota:
The sun can get pretty fierce at these parts even during winter. So, you might want to pack similarly as you did for your roadtrip to Hampi. 'Summerize' your clothes (even in winter), add sunscreens, glasses and caps. Carry enough bottles of water as well.
So, did you enjoy your virtual tour to Gandikota and Lepakshi with us? Let me know through the comments below 🙂